Labrador Retrievers:  Amadeuze Labrador Breeder South Africa
CH ABLESING LIEFDE VI KLARA
KLARA
DOB: 30-04-2011
ABOUT
Klara is a lovely black bitch with wonderful qualities: She is well boned, has a true otter tail, excellent coat, a beautiful soft expression and she moves like a dream.
Klara was born from the very first litter sired by Trotter (Ch Seabirds Globetrotter of Amadeuze, Imp Sweden), and she became a SA breed champion at the age of 2 years.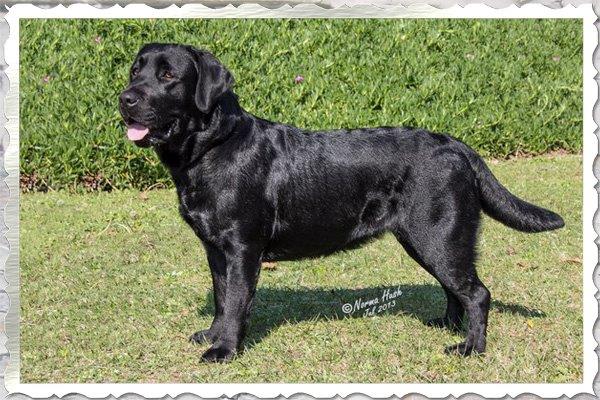 Klara was very successful in the show ring since she was first exhibited as a puppy and junior. As a youngster she was mostly handled by her owner and breeder, Mrs Juanita Botha and for practical reasons since early 2013 mostly exhibited and handled by myself.  Her extra-ordinary achievements in the ring include at least 15 CC's, 2x CACIBS and 1x RCACIB with Excellent Gradings. (FCI shows). As a Junior dog she won 2x Best Junior in Show and 1x Res Best Junior in Show. She was awarded 9x BOB and 12x RBOB under various national and international judges.  In 2013 she was placed Best in Show at the LRKC Championship show under Mrs Tuus van Adrichem Boogaert-Kwint (Netherlands).
Based on the winning points in the show ring, Klara received the Labrador Retriever Kennel Club's (LRKC) Best Junior Bitch Award for 2012. The following year Klara received the LRKC Awards as Supreme Champion for 2013 as well as the Victrix Ludorum for 2013!

Klara loves the show ring and it was always a pleasure handling her in the ring.
Congratulations and many thanks to her breeder and owner, Mrs Juanita Botha (Ablesing Kennel – Deneysville) for doing this very successful breeding – we love this beautiful Trotter daughter and are so proud of her!
More images of our girls HERE 
 
PEDIGREE
PARENTS

GRAND-PARENTS

GREAT GRAND-PARENTS

GREAT GREAT GRAND-PARENTS

CH Sea-Birds Globetrotter of Amadeuze (IMP Sweden)

VDCH NLCH Chablais Your Place or Mine

CH Big Skys Stone Kutter

Paradocs Tabatha Stonehenge

Big Skys Sable

CH Chablais Delorme Ziggy

CACH Soperbe Moka Des Savanes

CACH Chablais Gipsy

SU(U)CH NUCH Sea-Birds Loveletters In The Sand

SV-07-08 VWW-08 SV-01 NUCH SU(U)CH NV-06 Tjotte's Broken Arrow

NUCH SU(U)CH Mambrinos Harvey

NORDUCH Tjotte's Babysitters Nightmare

Cadonau's Emilia Galotti

USCH NLCH LUCH Raintree Slippery When Wet

Sea-Birds Yummy Chocolate Pudding

De Brack Polly Dora of Ablesing

Ailsacraig Star Wish of De Brack

Ailsacraig Look Whos Talkin

CH Warringah Bondi at Lancastria

CH Ailsacraig Starsparkle

Ailsacraig Misty Sky

Lombardy Snowranger at Ailsacraig

CH Ailsacraig Monetas Echo

Ablesing Prinses Priska of De Brack

Lambrada Dreamboy Barku of Ablesing

CH Marsta Ibn Sharac

Ailsacraig Ivory Fantasy of Lambrada

Justmyshadow Dreamgirl Zoey at Ablesing

CH Ailsacraig Topstar

Ailsacraig Laras Theme