Labrador Retrievers:  Amadeuze Labrador Breeder South Africa
CH BRUMOSO MILICA DIANTE OF AMADEUZE
MILLIE
DOB: 14-10-2014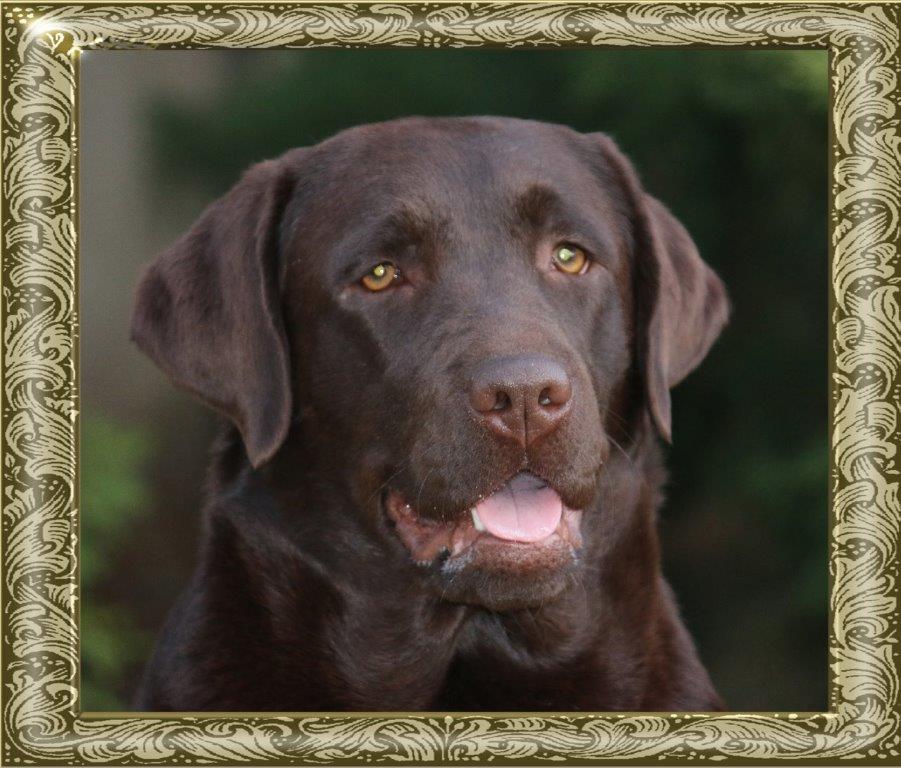 ABOUT
Millie came to us as a very tiny but very pretty little girl, hardly 8 weeks old. She was born in Mpumalanga province and bred by Mrs Odette Snyman, kennel Brumoso. Odette used our male dog Trotter at stud for a few litters on Molly (Millie's mom) and Mollie produced no less than 14 puppies in this litter; all of them miraculously survived and grew up into lovely puppies! Shortly before Molly had this litter in 2014 Poplap was diagnosed with cancer with the result that she had to be spayed. As there was similarity between Molly's pedigree and that of our Poplap, I became keen on taking a female puppy from Molly's litter, and see how she turns out.
What a wonderful surprise we got! Millie exceeded each and every one of our expectations – she has grown into a lovely and elegant young lady!
As a young puppy she didn't enjoy to attend dog shows and as result we delayed showing her until she was well on her way towards her first birthday. Millie's show career started at the age of 10 months and during the first championship show she attended she was awarded Best of Breed, Bitch CC, Best Puppy and won the Gundog Puppy Group.  Needless to say, after that Millie became a show dog, and she was made up as a SA Show Champion (breed) at the age 18 months.
Millie is a fun loving girl and enjoys swimming. She is very sweet and easy to live with and owns a lovely, typical Labrador temperament.
During 2017 and 2018 we bred 2 pretty chocolate litters from Millie, sired by Oscar. We are very pleased with the quality of her offspring and hope to breed another litter from her during 2019. From the 2018 litter we kept a girl by the name of Evie. Evie is lovely and made waves in the show ring since her first show in Baby Puppy Class when 4 months old!
Thanks to Odette for allowing us to have Millie, we love and enjoy her and she is an invaluable addition to our kennel and household.  

TEST RESULTS:
Elbows & Hips: Elbows 0:0; Hips: A2-A2;  
PRA: Clear;
EIC: Carrier
Colour Inheritance: Pure for Chocolate (no yellow)
Full Dentition

SHOW RESULTS 2015:
SA Champion (2016) at the age of 18 months!
4x BOB; 2x RBOB; 6x CC; 6x RCC; 1x CACIB;
3x Gundog Group 4; 7 x Best Puppy in Breed
3x Gundog Puppy Group 3; 2 x Gundog Puppy Group 1
3x Best Junior in Breed

More images of our girls HERE 
PEDIGREE
PARENTS
GRANDPARENTS
GREAT GRANDPARENTS
GREAT GREAT GRANDPARENTS

CH Sea-Birds Globetrotter of Amadeuze (IMP Sweden)

VDCH NLCH Chablais Your Place or Mine

CH Big Skys

Stone Kutter

Paradocs Tabatha Stonehenge
Big Skys Sable

CH Chablais Delorme Ziggy

CACH Soperbe Moka Des Savanes
CACH Chablais Gipsy

SU(U)CH NUCH Sea-Birds Loveletters In The Sand

SV-07-08 VWW-08 SV-01 NUCH SU(U)CH NV-06 Tjotte's Broken Arrow
NUCH SU(U)CH Mambrinos Harvey
NORDUCH Tjotte's Babysitters Nightmare

Cadonau's Emilia Galotti

USCH NLCH LUCH Raintree Slippery When Wet
Sea-Birds Yummy Chocolate Pudding

Dirnelia Molly Missy

CH Carriegame Bobby Dazzler of Dirnelia (Imp UK)

Carriegame
Ohmeohmy

Biss Am Ch Eng Sh Ch Fr Ch Int Ch Nl Ch Lux Ch Ger Ch Trialer Olé
Lynquest Kelowna of Carriegame
Carriegame
Dazzle
Brigburn Sedge
Carriegame Lollipop

Dirnelia Liefste Madelein

Boothgates Mud Wrestler of Dirnelia (Imp UK)

Boothgates Black Denim
Boothgates Keep The Peace at Billymart
Starshine Sasha of Dirnelia

CH Trevena Tantalite
Kirdneh Ginger Dalelady