Our Labrador Retrievers:  Amadeuze Labrador Breeder South Africa
AMADEUZE QUEEN OF (THE) NIGHT
QUEENI
DOB: 27-04-2018
ABOUT
Queeni was born out of Allegra, daughter of our late Swedish boy, Trotter, and sired by
Baloo, Amber's brother who is owned and loved by my friend Sandy Borralho. Alike her
sire and dam, she has loads of energy, is fun-loving and always on the move.
Queeni has a very soft and gentle temperament and loves human attention and hugs.
She also inherited beauty and excellent movement from both her parents and started
her show career in Baby Puppy Class on a well-pitched high note (alike the challenging
coloratura soprano aria from Mozart's Zauberflöte, after which she was named). With her
lovely head, good coat, good bone and a top line as straight as Table Mountain, she is
hardly ever overlooked in the show ring.
On the lighter side: It soon proved that Allegra once again passed on excellent chewing
genes to this "royal" offspring of hers and soon before long Queeni took over the title of
"chewing champion" from Miekie who held it for quite some time before her!
Queeni loves ball games and swimming. She can spend hours in the pool and is an
excellent swimmer. We are very happy to have her as part of our family en breeding
kennel. She is a very promising youngster and we trust she will continue to be very
successful both in the show ring and as a future breeding bitch.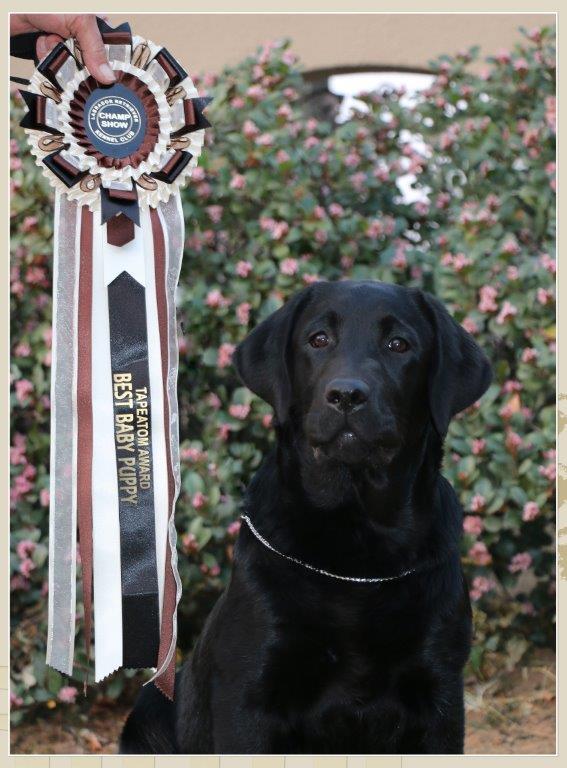 TEST RESULTS:
PRA: Clear by parents
EIC: Clear by parents; Full Dentition
HD & ED: To be done when one year old
SHOW RESULTS:
2x Best Baby Puppy in Show (Labrador Retriever Kennel Club & Gundog Club 2018)
1x Best Puppy in Breed
More images of our girls HERE 

PEDIGREE
PARENTS
GRANDPARENTS
GREAT
GRANDPARENTS
GREAT
GREAT GRANDPARENTS

 

 

 

 

 

Ch Seabirds Nothing compares of Mirain, Import Sweden

NORD UCH DK JV-13 Annuals Poker Star

SE U(U)CH Seawind Polish Poker

Wit's End Jacks or Better at Blackw

US CH Allegheny's Bells of Ireland

SE U(U)CH Annual's Texas Rose

SE U(U)CH Annual's Trendsetter

Annuals Navy Girl

SE V-09 SE U(U)CH SE VCH Sea-Birds All You Dream About

DK UCH SE U(U)CH Follies Traveller

CH Loch Mor Spencer

FI UCH Rosanan Ice Follies

Sea-Birds Nothing to Declare

Genisval High Hopes

Sea-Birds Effervescent Mist

Ch Ablesing Amazing Allegra of Amadeuze

CH Sea-Birds Globetrotter of Amadeuze (IMP Sweden)

VDCH NLCH Chablais Your Place or Mine

CH Big Skys Stone Kutter

CH Chablais Delorme Ziggy

SU(U)CH NUCH Sea-Birds Loveletters In The Sand

SV-07-08 VWW-08 SV-01 NUCH SU(U)CH NV-06 Tjotte's Broken Arrow

Cadonau's Emilia Galotti

De Brack Polly Dora of Ablesing

Ailsacraig Star Wish of De Brack

Ailsacraig Look Whos Talkin

Ailsacraig Misty Sky

Ablesing Prinses Priska of De Brack

Lambrada Dreamboy Barku of Ablesing

Justmyshadow Dreamgirl Zoey at Ablesing