Labrador Retrievers:  Amadeuze Labrador Breeder South Africa
DENNEGEUR BEATRICE AVANT OF AMADEUZE
TRIX
DOB: 21-12-2013
ABOUT
Trix joined our household as a tiny puppy. She was such a good girl from the word go, easy to train, easy to live with and keen to please – a lovely example of true Labrador temperament. She enjoys going to training/socialization classes and loves the company of other dogs as well as that of new human friends.
Trix is lively and energetic however calms down easily and shows a laid-back and relaxed temperament.  Strangely enough as a youngster she enjoyed the same type of games as her daddy Hubert: carrying around the food bowls, running around with dog bedding and blankets – must be hereditary?!
Born from the first litter Hubert sired, she was a promising young girl right from the start with loads of potential. She has grown into a lovely example of the Labrador breed, both in physical appearance and in temperament.
I would like to thank her breeder, Daniel Kritzinger (Kennel Dennegeur, Stellenbosch, SA) for entrusting her to us.  We love her dearly and she found a place here as a much appreciated member of our family and household.

TEST RESULTS:
Elbows & Hips: Elbows 0:0; Hips: A2-A2;
PRA: Clear; EIC: Clear
Colour Inheritance: Black carries Yellow

SHOW RESULTS 2014-15: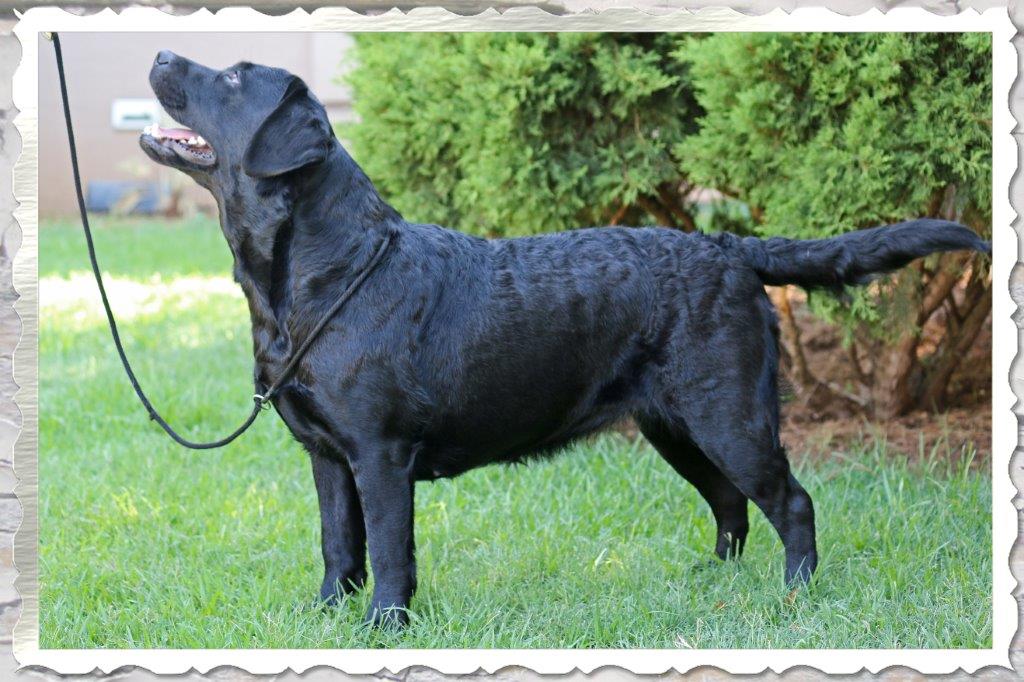 1x BOB (FCI Show); 1x CC; 3x RCC;
2x Best Puppy in Group; 2x Best Puppy in Breed;
1x Best Baby Puppy in Breed
More images of our girls HERE 

PEDIGREE
PARENTS
GRAND-PARENTS
GREAT
GRAND-PARENTS
GREAT
GREAT GRAND-PARENTS
Ch Hubert De L'Etang Balancet of Amadeuze (Imp France)
INT CH Carpenny Scenario
Rockledge Wordsmith of Carpenny
CH Carpenny Walpole
Rockledge Bramble
SH CH Carpenny Whist
Hawksmoors Webster
SH CH Carpenny Rustina
Ch Abbygail De L'Etang Balancet
Antoine Total Eclipse Over Cricklecreek
Cricklecreek Cruising Along
Antonine Seajade
Fisherman's Friend Nan  HR
ShCh/Fra/NI/Lux/IB Ole Trialer – Recommandé
CH IB CH SLO CH HR  Rosanan Beauty Spot
Dennegeur Brunnhilde
Dennegeur Gunnar Gaukler
Ch Dennegeur Krokos
Brightwood Charlie of Dennegeur
Dennegeur Betta Ballerina
Ch Beate Breek Weg
Ch Trenow Perseus of Dennegeur (Imp UK)
Ch Pencarron Pochard of Dennegeur
Dennegeur Woutrien Wenner
Ch Tambamoya Arrogant
Ch Tapeotom L for Leather of Dennegeur (Imp UK)
Glenroy Gemma
Ch Carriegame Paris of Dennegeur (Imp UK)
ShCh/Fra/NI/Lux/IB Ole Trialer – Recommandé
Carriegame Lollipop