Labrador Retrievers:  Amadeuze Labrador Breeder South Africa
CH HUBERT DE L'ETANG BALANCET
(Imp France)
HUBERT
DOB: 23-01-2012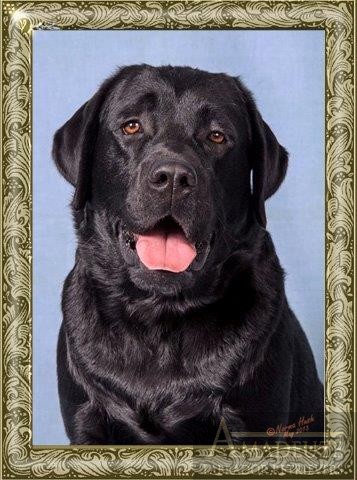 ABOUT
Hubert arrived in South Africa when only 11 weeks old; a beautiful, black bundle of joy! Since that time he surpassed our highest expectancies in every respect – he turned out to be a lovely dog and a very fine example of the Labrador retriever breed.  
Hubert is energetic, fun-loving and always on the move.  He has a loving temperament and is always asking for hugs and attention or looking for somebody to play with him.   Hubert is a real clown and keeps everyone entertained. His favourite game is to pile up empty food bowls, and brings it to you in piles of two, three or four! Another favourite game of his is to collect doggy blankets or matrasses, not taken into account that some of the other dogs might actually be sleeping on/under it at that moment!
Hubert had a very successful show career and became a SA show champion (breed) when only 18 months old. He is still exhibited occasionally and we are looking forward to show him in Veteran class as he turned 7 years old this year. The fact that he is really well matured by now doesn't stop him from doing what he loves best: He still carries cushions and objects around, as he has always done, and still acts like a clown sometimes!
Hubert sired a few lovely litters, and from his offspring we kept 2 girls, Trix and Miekie who seem to both have inherited their dad's habit of always having to have something in the mouth. Nevertheless, he produced lovely puppies and we are very pleased with his abilities as a stud dog and he adds super value to our kennel in this regard.
Hubert is currently living with my friend Ilze Hoffman and her chocolate girl Ella.    Thanks for Ilze for loving him and taking good care of him.
I would like to thank his breeder, Anne-Charlotte Dreyfus (Kennel L'Etang Balancet in France) for entrusting him to us.

TEST RESULTS:
Elbows 0:0; Hips: A1-A1;
PRA: Clear by Parentage;
EIC: Clear;  
Full Dentition


 SHOW RESULTS:
SA Show Champion (breed) 2013
1x Reserve Best in Show (LRKC Show2013);
2x BOB; 1x RBOB; 9x CC; 9x RCC; 1x Res CACIB (FCI);
6x Best Puppy; 1x Best Puppy in Group; 1 Reserve Best Puppy in Show (FCI);
1 x 3rd Best Puppy in Show (DOGSPC Best of Best)
16x Best Junior; 4x Best Junior in Group; 1x Best Junior in Show (Natal Gundog Club);
Reserve Best Puppy in Show (FCI);
3rd Best Puppy in Show (DOGSPC Best of the Best);
Best Junior in Show (Natal Gundog KC)
Reserve Best in Show at the LRKC Championship Show 2013 under Mrs Tuus van Adrichem Boogaert-Kwint (Netherlands)
More photos of Hubert HERE 
 
PEDIGREE
PARENTS

GRAND-PARENTS

GREAT

GRAND-PARENTS

GREAT

GREAT GRAND-PARENTS

 

 

INT CH Carpenny Scenario

 

Rockledge Wordsmith of Carpenny

 

CH Carpenny Walpole

Hawksmoors Webster

SH CH Covetwood Elouise of Carpenny

 

Rockledge Bramble

CH Trendmaker's Mugwump

Rockledge Mint Juled

 

SH CH Carpenny Whist

 

Hawksmoors Webster

Dickendall Arnold

Hawksmoors Ravens Flight

SH CH Carpenny Rustina

Kamrats Rustibus

SH CH Covetwood Elouise of Carpenny

 

 

 

 

 

CH Abbygail De L'Etang Balancet

 

Antonine Total Eclipse Over Cricklecreek

 

Cricklecreek Cruising Along

SH CH Rocheby Navy Blue

Cricklecreek Chiff Chaff

 

Antonine Seajade

CH Antonine Page Master

Broomgate Access to Antonine

 

INT CH Fisherman's Friend Nan

ShCh/Fra/NI/Lux/IB Olé

Trialer – Recommandé

Ithaque Winds to Toul Diweon

Maya de Gué de la Reboursiere

 

CH IB CH SLO CH HR  Rosanan Beauty Spot

CAN MVA AM MVA Chancellor Merry

FIN MVA Rosanen Snow White Rose