Our Labrador Retrievers:  Amadeuze Labrador Breeder South Africa
CH ABLESING AMAZING ALLEGRA OF AMADEUZE
ALLEGRA
DOB: 08-06-2012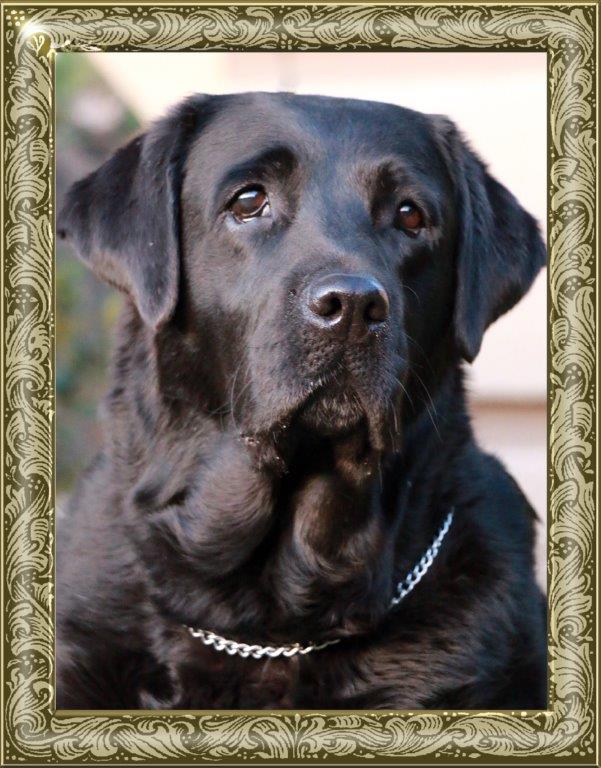 ABOUT
Allegra has a lovely soft and typical Labrador temperament: fun-loving, eager to play, crazy about water and keen to please. She is an energetic girl and enjoys all sorts of retrieving games, including ball games. She loves swimming and jumps into the pool whenever allowed to do so!  
Allegra has a beautiful head with a gentle expression, good shoulders, strong hindquarters, a typical Labrador coat with correct undercoat and a typical otter tail. She is well boned and an exceptionally good mover.  She definitely inherited most of the outstanding qualities of her amazing dad Trotter, who passed on in 2017, both in conformation and temperament.
Allegra had a very successful year in the show ring during 2013. She was a qualifier for Junior Dog of the Year (SA Ladies KC) and was placed Best Junior in Show at the Natal Gundog Championship Show.  In September 2013 she was placed Best in Show at the Gauteng Gundog Club Championship Show! In 2014 she was shortlisted as one of 4 qualifiers in the Gundog Group at the Golden Paw Challenge (Western Gauteng KC).  Allegra also received the LRKC (Labrador Retriever Kennel Club) Best Junior Bitch Award & Trophy for 2013!
Through these show results Allegra accumulated enough points to be placed in 2nd position of all Labradors on the 2013 Animal Top 100 Leaderboard! What an amazing achievement for a young girl, not even 2 years old!
Allegra produced a couple of excellent litters between 2014 and 2017, and we are privileged to have two of her daughters, Miekie and Queeni. After raising her last litter in April 2017 she was retired from breeding. Later the same year she tore knee ligaments by a freak accident (while chasing after birds in the garden!) but fortunately the "ligament replacement" operation performed on her seems to be very successful. She is also retired as show dog and enjoys her days as a mature lady in and around the house. She is still very fond of swimming and when we open the pool gate she goes bananas like all the younger dogs – playing, jumping, diving and swimming in the pool!
Many thanks to her breeder Juanita Botha (Ablesing Kennel – Deneysville) for entrusting Allegra to us.


TEST RESULTS:
Elbows ED 0:0; Hips: A1-A2;
PRA: Clear by Parentage;
EIC: Clear;
Current Eye Test: Clear;
Full Dentition


SHOW RESULTS:
1x Best in Show (Gauteng Gundog Club)
3X BOB; 2x RBOB; 9x CC; 11x RCC;
2x FCI Excellent Grading;
5x Best Puppy; 1x Best Puppy in Group; 6x Best Junior; 1x Best Junior in Group.
More images of our girls HERE 

PEDIGREE
PARENTS
GRAND-PARENTS
GREAT GRAND-PARENTS
GREAT GREAT GRAND-PARENTS
CH Sea-Birds Globetrotter of Amadeuze (IMP Sweden)
VDCH NLCH Chablais Your Place or Mine
CH Big Skys Stone Kutter
Paradocs Tabatha Stonehenge
Big Skys Sable
CH Chablais Delorme Ziggy
CACH Soperbe Moka Des Savanes
CACH Chablais Gipsy
SU(U)CH NUCH Sea-Birds Loveletters In The Sand
SV-07-08 VWW-08 SV-01 NUCH SU(U)CH NV-06 Tjotte's Broken Arrow
NUCH SU(U)CH Mambrinos Harvey
NORDUCH Tjotte's Babysitters Nightmare
Cadonau's Emilia Galotti
USCH NLCH LUCH Raintree Slippery When Wet
Sea-Birds Yummy Chocolate Pudding
De Brack Polly Dora of Ablesing
Ailsacraig Star Wish of De Brack
Ailsacraig Look Whos Talkin
CH Warringah Bondi at Lancastria
CH Ailsacraig Starsparkle
Ailsacraig Misty Sky
Lombardy Snowranger at Ailsacraig
CH Ailsacraig Monetas Echo
Ablesing Prinses Priska of De Brack
Lambrada Dreamboy Barku of Ablesing
CH Marsta Ibn Sharac
Ailsacraig Ivory Fantasy of Lambrada
Justmyshadow Dreamgirl Zoey at Ablesing
CH Ailsacraig Topstar
Ailsacraig Laras Theme