Our Labrador Retrievers:  Amadeuze Labrador Breeder South Africa
CH AMADEUZE KARMINA BURANA
MIEKIE
DOB: 20-10-2016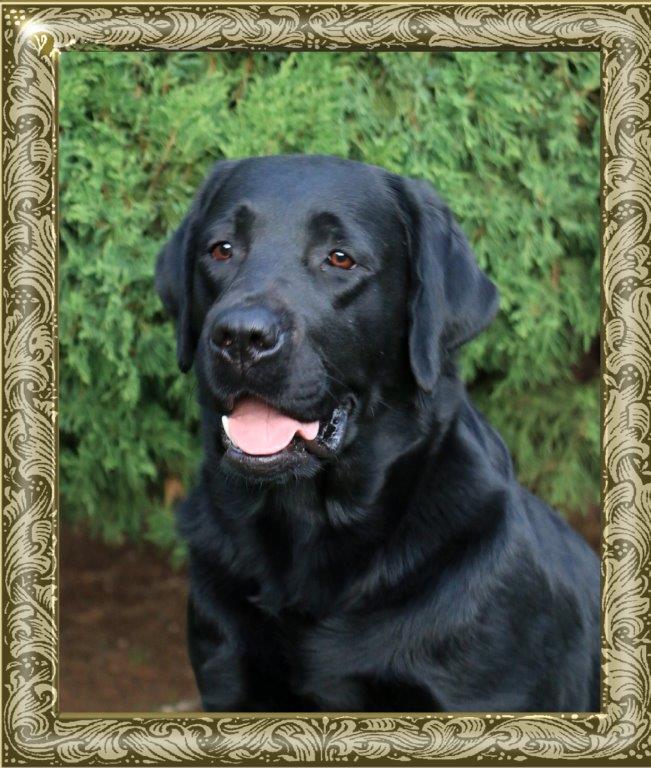 ABOUT
Miekie was born out of Allegra, daughter of our Swedish boy, Trotter, and sired by Hubert, our French boy. Alike her sire and dam, she has loads of energy, a high play (and prey-) drive, is fun-loving and always on the move.
She obviously also inherited beauty and excellent, flowing movement from both her parents, and is very successful in the show ring.
It seems that Miekie also inherited the ability to chew like a champion.  Both her champion parents were excellent chewers as youngsters; Hubert fancied cell phones and TV remotes while Allegra (being a real lady) preferred sunglass cases and make-up bags! With looks like hers she is usually forgiven quite soon…. Fortunately she is now moving on and out of the chewing stage
 Miekie loves fetching games, ball games and swimming. She loves to carry water bowls around (Hubert heritage!) and always run around with a toy in her mouth.  We love her dearly and are very happy with this promising girl.
During 2019 Miekie gave us a lovely litter of 10 healthy puppies from which we kept one of the yellow girls (Nunus). We intend to breed from Miekie again this year.
Miekie in the Labrador Show ring
Miekie's show results include the following highlights:
Best Baby Puppy in Show (Wits KC 2017, All Breeds show)
1x Best Puppy in Show (Gundog Club 2017, Group Speciality show)

TEST RESULTS:
Elbows 0:0; Hips: A2-A2;
PRA: Clear by Parentage;
EIC: Clear by Parentage;
Full Dentition
SHOW RESULTS:
SA ShowChampion (breed) 2018 at the age of 19 months!
1x Reserve Best of Breed
6x CC Certificates; 1x RCC Certificates
Best Baby Puppy in Show (Wits KC 2017, All Breeds)
3x Best Baby Puppy in Group
1x Best Puppy in Show (Gundog Club 2017, Group Speciality show)
2x Best Puppy in Group
8x Best Puppy in Breed
1x Best Junior in Breed

MIEKIE GALLERY
PEDIGREE
PARENTS
GRANDPARENTS
GREAT
GRANDPARENTS
GREAT
GREAT GRANDPARENTS

 

 

 

 

 

Ch Hubert De L'Etang Balancet (Imp France)

INT CH Carpenny Scenario

Rockledge Wordsmith of Carpenny

CH Carpenny Walpole

Rockledge Bramble

SH CH Carpenny Whist

Hawksmoors Webster

SH CH Carpenny Rustina

CH Abbygail De L'Etang Balancet

Antonine Total Eclipse Over Cricklecreek

Cricklecreek Cruising Along

Antonine Seajade

INT CH Fisherman's Friend Nan

ShCh/Fra/NI/Lux/IB Olé

Trialer – Recommandé

CH IB CH SLO CH HR  Rosanan Beauty Spot

Ch Ablesing Amazing Allegra of Amadeuze

CH Sea-Birds Globetrotter of Amadeuze (IMP Sweden)

VDCH NLCH Chablais Your Place or Mine

CH Big Skys Stone Kutter

CH Chablais Delorme Ziggy

SU(U)CH NUCH Sea-Birds Loveletters In The Sand

SV-07-08 VWW-08 SV-01 NUCH SU(U)CH NV-06 Tjotte's Broken Arrow

Cadonau's Emilia Galotti

De Brack Polly Dora of Ablesing

Ailsacraig Star Wish of De Brack

Ailsacraig Look Whos Talkin

Ailsacraig Misty Sky

Ablesing Prinses Priska of De Brack

Lambrada Dreamboy Barku of Ablesing

Justmyshadow Dreamgirl Zoey at Ablesing